small, PASSIONATE Family business
Made To Last In Great Britain
Meet our original tide clock
Time and tide on one clock face
This clever clock is perfect for those who enjoy coastal living or yearn for the salty sea air.
Depicting a tiny mechanical harbour with moving waves and bobbing boats, the clock will help you plan walks on the beach at low tide or chilly swims at high-water.
An incredibly unique addition to your home - get ready for compliments!
why you'll love our clocks
"The pictures online really don't do these clocks justice as they really have to be seen in the flesh to be fully appreciated"
A Statement Piece in Our Home
"It is so well made and absolutely beautiful."
I love it, my kids love it
"I look at it every day for the tide and as the weather improves, I will be heading out for a swim at high tide!!"
"Daddy it's time for a swim!"
"The tide clock has turned him into a good little swimmer and he loves paddle boarding on board with his father."
no, it's not magic
Incredibly easy to setup, the clock has a electro-mechanical tidal timer inside. This ensures it is indicative of what the tide you set it to is also doing. Take a look at our video to learn more.
Artist depictions of Real Life tidal Locations
Browse our growing collection of Tide Clocks depicting famous harbours, beaches, and coastal scenes.
hand-assembled

made to last

rare & unique
Looking for a fully bespoke clock?
Let our design and workshop team create a bespoke Tide Clock for you. Tell us a location and any boats or watercraft you'd like added to the scene, and we'll make it happen.
Your local ferry, your Dad's old barge or a rum smuggler's skiff?!

100% unique, handmade to order
Commission a one-of-a-kind Tide Clock and you can:
Decide on the tidal scene and any boat or watercraft desired
Enjoy a completely unique clock, to cherish forever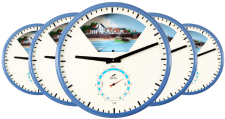 Gather 5 or more people that want a clock depicting the same location:
Confirm tidal scene & watercraft wanted by the group.
After the initial group order, further orders of the same clock will be available on the website
Prices per clock start at the same rate as other Limited Edition Tide Clocks listed above.
our personal promise to you
Each and every Bramwell Brown clock is designed & handmade to bring happiness wherever it is hung. We hope you will feel the enthusiasm and care of our budding family business when you bring a Tide Clock into your own home.
Warmest Regards,