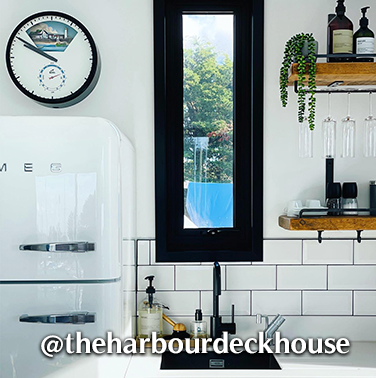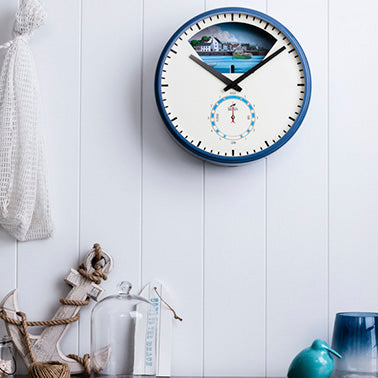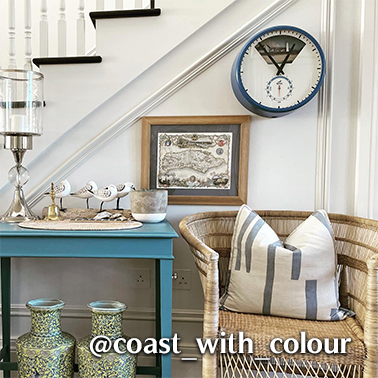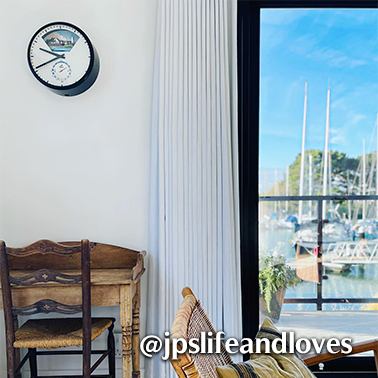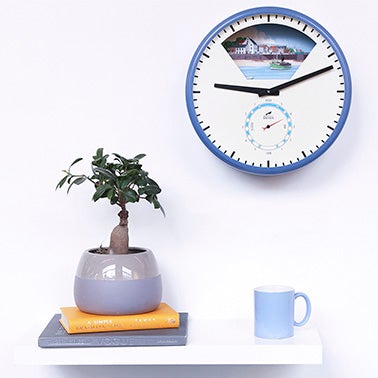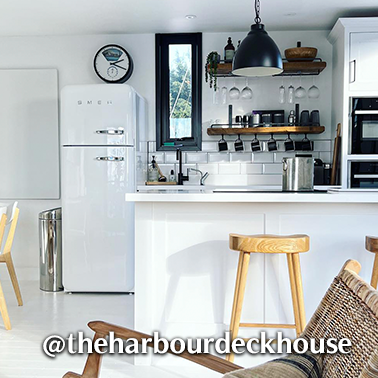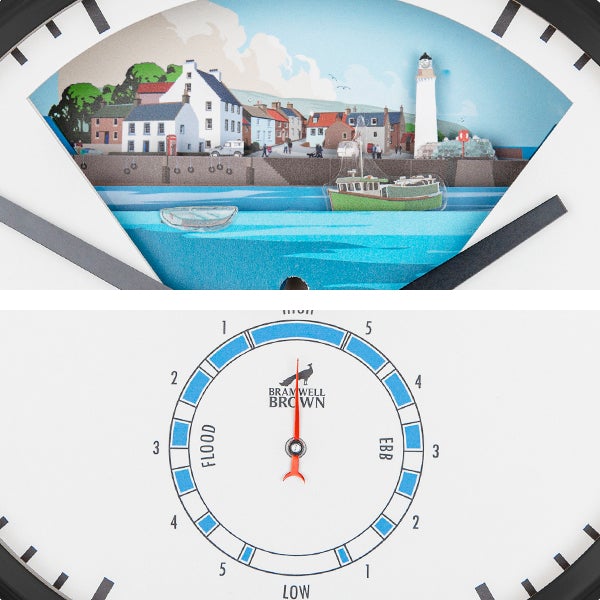 Based on the beautiful seaside town of Southwold in Suffolk, England, this clock combines the iconic view from the pier with helpful tide-keeping indications. The full tide cycle is cleverly depicted in the moving mechanical harbour scene.

Taking the main features of one of East Anglia's most iconic beachfronts; the lighthouse flashes, the colourful beachhuts sit by the seawall and the boats bob up and down as the tide comes and goes.

Designed to be both a helpful indication of when is a good time to go for walk at low water or a swim at high tide, the clock is also a moving piece of artwork, brought to life by the artistic seascape that updates every thirty minutes.
The clever electro-mechanics work in the same way as our regular Tide Clocks - the Southwold Tide Clock keeps track of the day's Tides (learn more here). No internet connections required or anything difficult to get right - just set the clock at high tide for your preferred location or Southwold's tide itself, and off you go.
All our clocks are made with great affection at our workshop in Hampshire, England. And, as with with all Limited Edition designs, we will will make only 250 of these very special clocks.

Southwold was chosen after multiple requests from enthusiastic Suffolk locals voted for us to choose the view from the Pier. And it also happens to be the location of one of Bramwell Brown's favourite independent retailers, Max Southwold, where you can see a Southwold Tide Clock in the flesh.  
Clever electro-mechanical design
The scenery updates every 30 minutes to keep track of the average moving tide. Like all Tide Clocks, it is set to work on a semi-diurnal timer of 12 hours 25 minutes and 15 seconds between high tides. Just set the Clock to 'High Tide' when your favourite coastal location is also in flood and you're in sync.

Watch a full day of Southwold Beach
The 'mechanically animated' illustrations can be demonstrated to friends and family at the push of the 'Mechanimate' button on the clock – it will then complete an entire tidal loop with boats bobbing up and down along the way. Swimwear and ice cream is optional!

Hand Assembled in Great Britain
All of our patented, British-designed Tide Clocks are crafted by hand at our workshop in Hampshire, England – delicate, skilled work.

Sustainable Design
We've designed the clock to work for many happy years in your home. It's fully serviceable (if it ever needs to be) – with all the parts available in our workshop.

Easy to hang (indoors!)
A single screw in the wall can hold the clock and you get a nifty hanging guide in the box. This clock is for indoor use only – and please don't hang it within 50cm (20 inches) of a radiator. The delicate mechanics don't enjoy direct heat.

Certificate of Authenticity
A badge of honour for every Bramwell Brown Clock we make, signed by the team members at the workshop that assembled it for you.

60-day returns, so you can be sure it's right for you
We're sure you're going to love this clock. But if you change your mind, for whatever reason, just send it back to us within 60 days of delivery for an exchange or full refund. You can read more about our hassle-free process here.
And if you want to give someone a clock but can't decide which one, you can always purchase a Gift Card?.
Dimensions
33cm (13 inches) diameter
12.5cm (5 inches) deep

Quality quartz movement
German-made quartz mechanism keeps the clock hands on time without any ticking noise.

Quality materials
Steel clock frame is hand-finished. The Black, Grey or Blue coloured powder coats are silky smooth. Copper-plated frames have a nice clear lacquer finish to prevent any oxidisation over time. Printed card clock face sits behind the anodised metal minute and hour hands. The harbour artwork print is onto lightweight artboard. The clock window is shatterproof Lumex.

Runs on regular batteries
Included, of course, with all clocks.

Free UK, EU and USA delivery
Once neatly packed up at the workshop, the clocks are shipped by trackable courier. If you're in the UK, delivery is in 1-2 working days. Orders placed before 2pm Monday-Friday are shipped that same day. All orders to EU countries and the USA will arrive with no duties or local tariffs payable. Read more about our shipping.

A note on unusual tide patterns
Our Tide Clocks forecast the tide state on a semi-diurnal mechanism. They therefore time the twice daily rise and fall of a standard semi-diurnal tide, (as found in all of the United Kingdom, most of Europe and the East Coast of the USA) that results from the gravitational pull of the moon. If you are in a location not listed above or with a known unusual tide then you can read more here.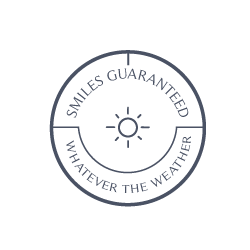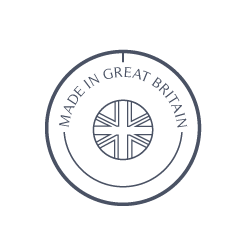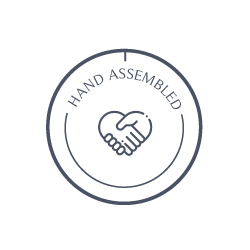 100%
would recommend this product
Caroline B.

Verified Buyer

Tide Clock

I purchased the Tide Clock as a 25th Wedding Anniversary Gift for my husband and I'm pleased to say, he loves it! It is hanging in pride of place in our house in Old Hunstanton & it is so wonderful to know what the tide is up to, just with a glance. We use it for swimming, sailing, kite surfing and of course, crabbing!

BB

Bramwell Brown Clocks

1 month ago

Hi Caroline,

Thank you ever so much for taking the time to give us your feedback and photos of your Tide Clock. We're so pleased to hear your husband loves his anniversary gift, and the clock is proving to be useful for all your exciting activities. We hope the clock will bring you joy for years to come. Happy belated anniversary from us all here at BB, HQ🎈🥂
Many thanks
Bramwell Brown

Tijen B.

Verified Buyer

5 ⭐ Beautiful clock - a forever piece

We had been contemplating buying a Bramwell clock for a while and living in Suffolk when we saw the Limited Edition Southwold clock we took the plunge! We are so thrilled we did. The clock is beautiful, a real statement piece which we hope we will have forever. Our children love looking at the moving tide picture to see whether the tide is in or out when we go for our local river walks. The flashing lighthouse is a lovely touch too. We love having a piece of Suffolk on our wall and bringing the connection to the tide of where we live, into our home. Also, the customer service is brilliant. We ordered our clock and it arrived first thing the next day! Would highly recommend buying a Bramwell clock, it has been the perfect and most special piece to finish off our kitchen/diner

BB

Bramwell Brown Clocks

3 months ago

Hi Tijen,

Thank you ever so much for your glowing 5* review. It brings us such joy to read your kind words about how the Southwold Limited Edition Tide Clock, has become an important addition to your family and a great statement piece to your Kitchen/diner. We hope you will continue loving having the mini Suffolk scenery brightening your home and aiding in those all-important beach walks for years to come.
Many thanks
Bramwell Brown

Phil M.

Verified Buyer

Beautiful Tide Clock!

It really is a beautiful piece. After a little disagreement of which room is more deserving of it, we hung our tide clock and couldn't be happier. We hadn't realised the lighthouse would flash which is a detail that really sets it off. The instructions for hanging it, setting the time and also the tide are clear and concise. The advice provided to not hang it in a bedroom is appropriate because it does emit a noise when the tide moves that would potentially disturb sleep. But in l our living space that really isn't a problem. We have this and a weather clock now from Bramwell Brown and are ecstatic with both!

BB

Bramwell Brown Clocks

6 months ago

Hi Phil,

Thank you ever so much for such a lovely review. We are so pleased to hear you are not just the owner of one, but two of our clocks. So pleased to hear your living room won the battle to showcase the Tide Clock. We hope the clocks bring you and your family many more years of joy and greatly timed walks on the beach in good weather.
Many thanks
Bramwell Brown

Lesley T.

Verified Buyer

special clock- with memories!

Love this clock, brought for my husband but the whole family love it. Every time we see the light house flash it takes us straight back to Southwold !

BB

Bramwell Brown Clocks

1 week ago

Hi Lesley,

Thank you so much for your 5* review and support. We're so delighted to read the clock is being enjoyed by the whole family especially so for the great memories it brings you of Southwold. Hopefully, you will continue to enjoy the clock for years to come -whatever the Tides bring!
Many thanks
Bramwell Brown

Emma T.

Verified Buyer

So glad I treated myself

We already have a weather clock which we love so we were excited to see the tide clocks. Having grown up in Suffolk when you released the Southwold Tide clock I had to have one. It makes me smile every day. Like the weather clock it is beautifully made, easy to hang and a real talking point for visitors.

BB

Bramwell Brown Clocks

6 months ago

Hi Emma,

Thank you ever so much for your 5* review. We are so thrilled to hear the Southwold Tide Clock makes you smile everyday, and you're the proud owner of two of our clocks. Thank you ever so much for your support. We wish many more years of smiles -whatever the Tide brings!
Many thanks
Bramwell Brown
Reviews Loaded
Reviews Added