Fully tested and checked – the workshop team ensure the clock's internal workings are of the exact same quality as brand new clocks leaving the workshop. No compromise on reliability or our regular warranty.

Help us reduce waste – by refurbishing our Weather Clocks, we can re-use some important parts, such as the frames, backcovers and batteries, that may have tiny marks on or have been used just very briefly (see "Tell me more..." tab for more details)
Peace of mind – all refurbished Weather Clocks are backed by the exact same (and extendable) one year warranty that covers our brand new Weather Clocks
A good size – the Weather Clock's frame measures 33cm diameter (13 inches) and 12.5cm deep (5 inches) – big enough to work as a single focal point in a room, small enough to sit alongside other wall art and furnishings.

"Can you give each one a name, so it would be like rescuing from a shelter?!" – we've had a lot of interest in refurbished clocks and have worked hard to make it happen!
Hand Assembled in Great Britain
We take pride that our clocks are hand made at our Hampshire workshop. This allows us to give any returned clock a huge amount of care and attention to ensure it has a long and happy second life in your home.

Sustainable Quality
We have worked hard to set up a system that reduces waste but maintains the highest qualities. The serviceability of our clocks allows us to replace parts that need to be but maintain others that would otherwise go to waste.

Discernible differences
Our very strict quality control processes for our brand new clocks mean that even frames or backcovers with the smallest of blemishes on them cannot be used. This allows us to offer great value to anyone looking for a quality Bramwell Brown

Recycled Batteries
Our clocks run on batteries and previously we have not been able to reuse ones that have already been removed from their blister packs. We test these returned batteries to check they're still fully charged and repack them again, reducing waste further

Packaged up like new with a Certificate of Authenticity
Each clock arrives in the exact same packaging as our brand new clocks. And, as with all our brand new clocks, each preloved Weather Clock comes with a certificate, signed by the team members that refurbished it for you

60-day returns, so you can be sure it's right for you
We're sure you're going to love your clock. And whilst we can't hope to describe every individual clock's past life and/or blemishes (if any) we can offer the same 60-day hassle-free return process that is available on the rest of the Bramwell Brown range, if you change your mind for whatever reason.
Dimensions of the 'Re-loved' Weather Clocks
33cm (13 inches) diameter
12.5cm (5 inches) deep

The same quality quartz movement
German-made quartz mechanism keeps the clock hands on time without any ticking noise.

And the same quality materials
Steel clock frame is hand-finished. The Black, Grey or Blue coloured powder coats are silky smooth. Copper-plated frames have a nice clear lacquer finish to prevent any oxidisation over time. Printed card clock face sits behind the anodised metal minute and hour hands. Weather artwork print is onto lightweight artboard. The clock window is shatterproof Lumex.

Runs on regular batteries
Included, of course, with all clocks.

Free UK & US delivery
Once neatly packed up at the workshop, the Weather Clocks are shipped by trackable courier. If you're in the UK, delivery is in 1-2 days. Orders placed before 2pm Monday-Friday are shipped that same day.

Ordering overseas?
No problem! We love sending our regular-sized clocks around the world. We use reliable, fully tracked couriers. All orders to EU countries and the USA will arrive with no duties or local tariffs payable. Read more about our shipping.

A note on altitude
Our clocks are designed to work up to 180m above sea level. If you live above 180m, the lower air pressure makes the clock unusually pessimistic. We can alter its brains for you – just get in touch with us (but please also see the next point about personalisation.) Find out more about clocks at altitude.

Workshop limitations
These clocks are already assembled so we're afraid we cannot offer a Personalisation on any of them unless they are first purchased and sent back to the workshop to be serviced. Once you have made your purchase feel free to reach out to us.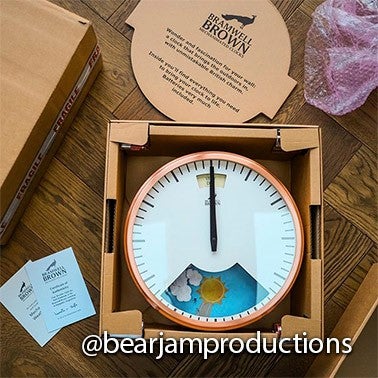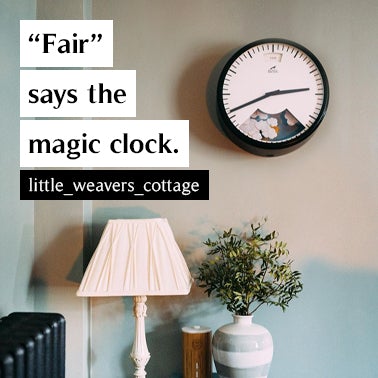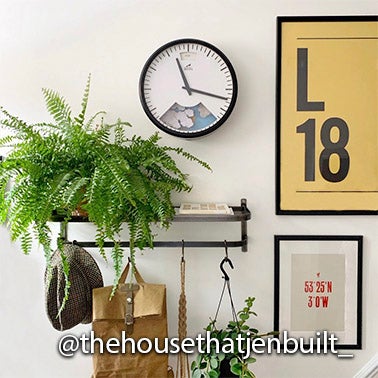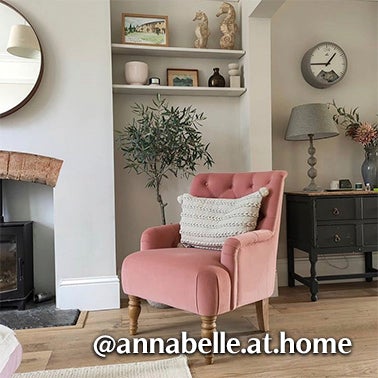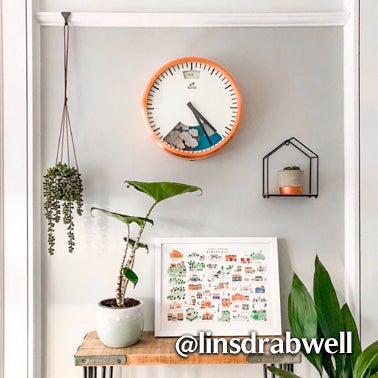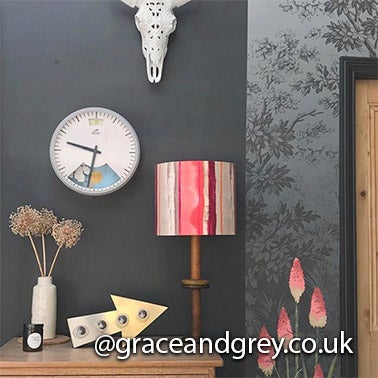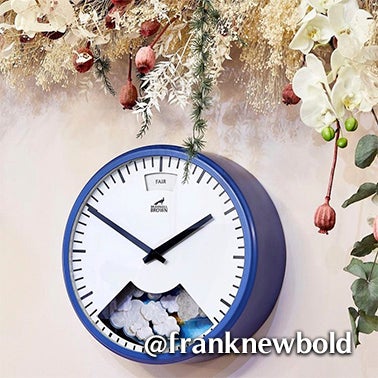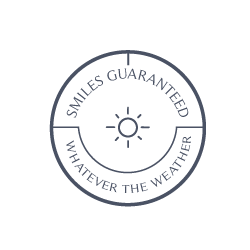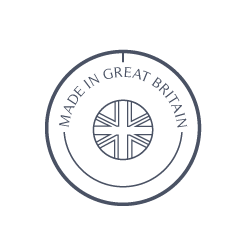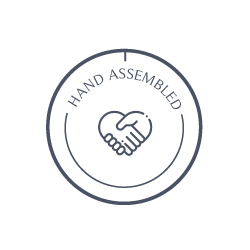 97%
would recommend this product
lou c.

Verified Buyer

Couldn't be happier!

The packaging of the clock is absolutely delightful. Literally everything you need - even down to a template for the wall- which is always welcomed in our house!

The clock itself is beautiful, so well made. I've wanted one for years and to finally have one is a proud moment. Positioned in a place where everyone can see, it's completes my kitchen.

You can sense it has been made with love.

If anyone is considering buying one - do it as you 100% won't regret it.

Especially love that it's made in Britain. So important to shop small and keep these delightful makers in business :-)

BB

Bramwell Brown Clocks

3 months ago

Hi Louise, thank you so much for your kind words. We are so happy to hear that you delighted with your clock and its packaging! We are truly filled with joy to know that you are a proud owner of a Bramwell Brown Clock, and that it takes pride of place in your home. Thank you again for your lovely words and support.
Wishing you all the best!
The Bramwell Brown Team

Rachel E.

Verified Buyer

Great weather clock

I absolutely love our weather clock. It fits perfectly in our living room. It's definitely an investment but worth it in my opinion!

BB

Bramwell Brown Clocks

11 months ago

Hi Rachel,

Your 5* review means a lot to us, Thank You. We are so thrilled to hear you love your clock and hope you will get many more years of joy - come 'RAIN' or Shine!
Many thanks
Bramwell Brown

Kaylee D.

Verified Buyer

Beautiful Clock

I fondly remember my great grandfather's barometer as a child, unfortunately this has now been lost through generations of storage. I wanted to have a similar piece that my children and perhaps there children will think upon fondly. Thrilled with this clock and my children get very excited when a weather change occurs. Video is of the demo option.

BB

Bramwell Brown Clocks

1 year ago

Hi Kaylee, thank you so much for your kind feedback, we really appreciate it. How lovely to hear that this reminds you of your great grandfather's barometer and brings back fond childhood memories! We are so happy to hear you have chosen a Bramwell Brown Weather Clock to cherish and carry on these lovely times with your own children. We hope this special time-piece will certainly be one to remember through generations.
All the best,
The Bramwell Brown Team

Gail W.

Verified Buyer

Worth the wait

I have admired and wanted one of these clocks for over two years… and now I am so excited to say I own one!!! Things I love about this clock; the demo button -I enjoy seeing it work it's magic, the wide profile so it makes itself seen, the amazing weather pictures and all round fantastic piece of kit!

BB

Bramwell Brown Clocks

1 year ago

Hi Gail!

What lovely complements to kick start our week. We are just so thrilled that you finally have our Weather Clock hanging proudly in your home and more so that you are enjoying its magic.

Many thanks
BB

Helen C.

Verified Buyer

It's darling

I was lucky enough to nab a copper weather clock in the pre-loved sale, and it is entirely perfect- not a single indicator that it's anything other than brand new.

The clock itself is fabulous, and gets loads of really lovely comments from visitors.

BB

Bramwell Brown Clocks

1 year ago

Hi there Helen,

We are so pleased to hear you managed to get your hands on one of our Pre-loved Weather Clocks. Thank you for your lovely comments and 5 star review! We hope you and all who see the clock will enjoy it, whatever the weather brings through the years.

Many thanks
BB
Reviews Loaded
Reviews Added