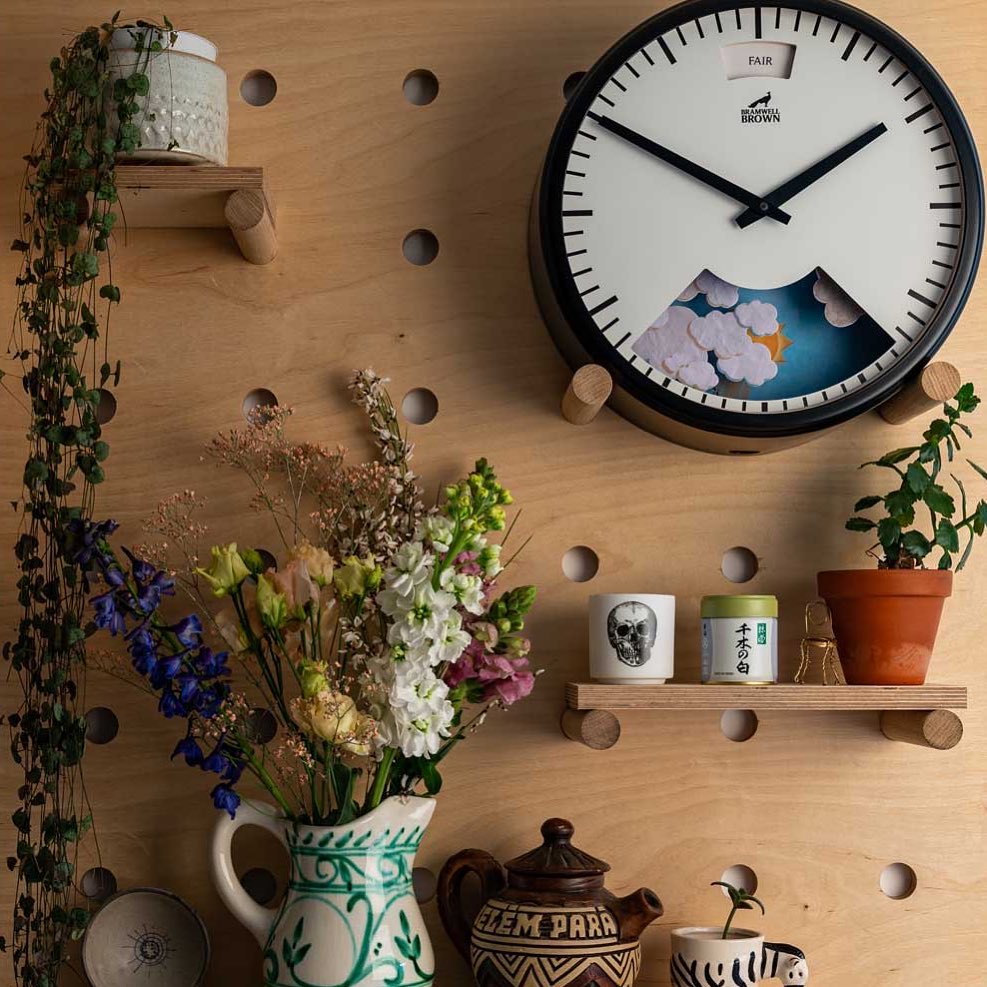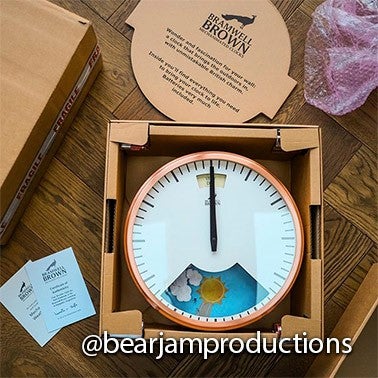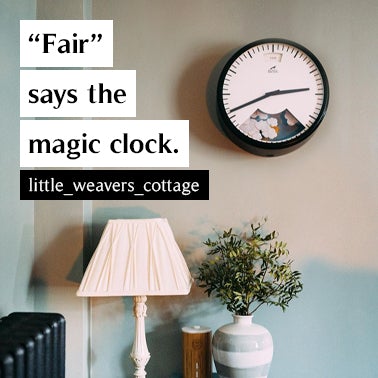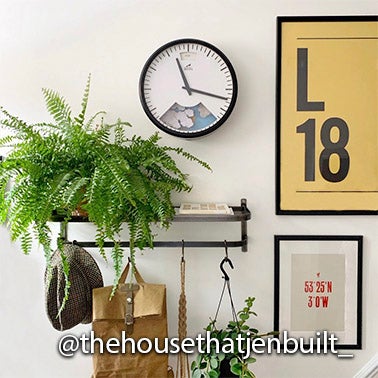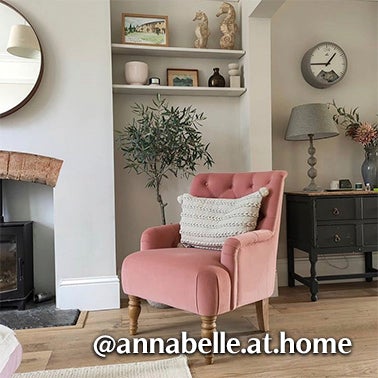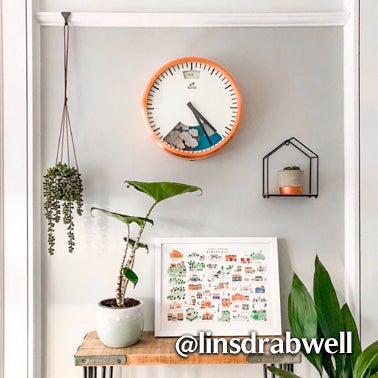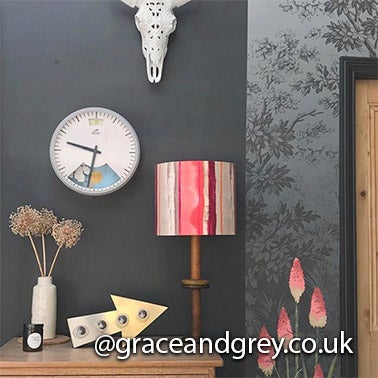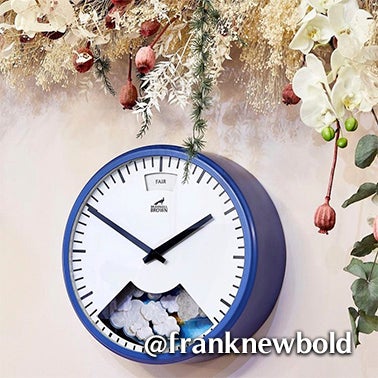 A weather forecast in a clock – with an internal barometer and clever mechanical innards, the beautiful illustrations change with the air pressure.
Full of character and charm – our clocks add playfulness to your wall, with a little life of charming illustrations whirring away beneath the contemporary design.
Suits any room – whether you want it to blend in or stand out, we designed the Weather Clock to suit a whole variety of settings, from kitchen to hallway.
A good size – the Weather Clock's frame measures 33cm diameter (13 inches) and 12.5cm deep (5 inches) – big enough to work as a single focal point in a room, small enough to sit alongside other wall art and furnishings.
"It gets so many compliments from our friends" – not our words, but those of a happy customer. Read more reviews 
Hand Assembled in Great Britain
All of our patented, British-designed clocks are assembled by hand at our workshop in Hampshire, England – delicate, skilled work.

Sustainable Design
We designed the clock to work for many happy years in your home. It's fully serviceable (if it ever needs to be) – with all the parts available in our UK-based workshop.

Watch it change
Why wait for the weather to turn? Press the 'Mechanimate Button' on the base to make it whizz into life – then watch the reaction from friends and family.

Mechanimated illustrations
The little illustrated scene changes with the air pressure, just like the barometers of old: 'Very Dry', 'Fair', 'Change', 'Rain', and 'Stormy'.

Easy to hang (indoors!)
A single screw in the wall can hold the clock and you get a nifty hanging guide in the box. This clock is for indoor use only – and please don't hang it within 50cm (20 inches) of a radiator. The delicate mechanics don't enjoy direct heat.

Certificate of Authenticity
A badge of honour for every Bramwell Brown Weather Clock we make, signed by the team members that assembled it for you.

Personalise your clock with a bespoke clock face or plaque
A Weather Clock is a wonderful item to mark an event, person or memory. The only thing better? Having one assembled specially for the occasion, with a personal message printed on the clock face or, alternatively, a plaque attached to the back of the clock. The Bramwell Brown assembly team are always incredibly proud to make personalised clocks.

60-day returns, so you can be sure it's right for you
We're sure you're going to love this clock. But if you change your mind, for whatever reason, just send it back to us within 60 days of delivery for an exchange or full refund. You can read more about our hassle-free process here. 
And if you want to give someone a clock but can't decide which one, you can always purchase a Gift Card?.
Dimensions
33cm (13 inches) diameter
12.5cm (5 inches) deep

Quality quartz movement
German-made quartz mechanism keeps the clock hands on time without any ticking noise.

Quality materials
Steel clock frame is hand-finished. The Black, Grey or Blue coloured powder coats are silky smooth. Copper-plated frames have a nice clear lacquer finish to prevent any oxidisation over time. Printed card clock face sits behind the anodised metal minute and hour hands. Weather artwork print is onto lightweight artboard. The clock window is shatterproof Lumex.

Runs on regular batteries
Included, of course, with all clocks.

Free UK delivery
Once neatly packed up at the workshop, the Weather Clocks are shipped by trackable courier. If you're in the UK, delivery is in 1-2 days. Orders placed before 2pm Monday-Friday are shipped that same day.

Free EU and USA shipping
We love sending our regular-sized clocks around the world! We use reliable, fully tracked couriers. All orders to EU countries and the USA will arrive with no duties or local tariffs payable. Read more about our shipping.

A note on altitude
Our clocks are designed to work up to 180m above sea level. If you live above 180m, the lower air pressure makes the clock unusually pessimistic. We can alter its brains for you – just get in touch with us. Find out more about clocks at altitude.
99%
would recommend this product
Joanne J.

Verified Buyer

My happy reminder

Before my dad passed away I showed him a clock on your page and he loved it! I decided then when he died that's what I was going to get to remember him. I'm so pleased I did, everytime I look at my clock I feel like my Dad is smiling at me! I get so excited when it changes and my favourite is stormy!

BB

Bramwell Brown Clocks

3 days ago

Dear Joanne,

Thank you SO much for taking the time to give us your clock review. We're deeply touched to hear the clock brings you such a meaningful connection with your dad's memory, your chosen pride of place for the clock looks amazing, thank you for sharing your photo. We hope the clock will bring continued joy and a sense of your dad's presence through the years and seasons - whatever the weather brings!
Many thanks
Bramwell Brown

Greg H.

Verified Buyer

Weather clock review.

Love the clock it has made a lovely feature in my kitchen.

I enjoy watching the clock changing its weather forecast.

I would recommend getting one 👍😊

BB

Bramwell Brown Clocks

2 weeks ago

Dear Greg,

Thank you SO much for your kind review and recommendation. It is hugely appreciated. We're glad you're enjoying the clock and it sounds like it has found its forever home in your kitchen, and we hope you will never tire from hearing it whirring into action as it picks up on the air pressure changes.
Many thanks
Bramwell Brown

Mark S.

Verified Buyer

Weather clock

Lovely clock - solid well made and it looks great. Customer service is also excellent

BB

Bramwell Brown Clocks

3 weeks ago

Dear Mark,

Thank you ever SO much for your kind review. We're so pleased to read your comments on the clock being lovely and well-made, our workshop team will be over the moon to hear this. Thank you too for your kind words about our customer care - we really appreciate it! We wish you years of joy with your clock - whatever the weather brings!
Many thanks
Bramwell Brown

Mr Marcus E W R.

Verified Buyer

Amazing clock

Absolutely amazing!!! Love it!! I Have a barometer as well but this is much more fun!!! Thankyou! X

BB

Bramwell Brown Clocks

3 weeks ago

Dear Marcus,

Thank you ever SO much for your 5* review! We are just so pleased to read you love the clock. We hope you will enjoy it for years to come - whatever the seasons bring!
Many thanks
Bramwell Brown

Humphrey B.

Verified Buyer

Beautiful amazing awesome clock!!

Beautiful clock that makes the weather that little bit more interesting… especially when it's wet!!

BB

Bramwell Brown Clocks

1 month ago

Dear Humphrey,

Thank you for your kind 5* review. We hope the clock brings you great joy and for years to come - whatever the weather brings.
Many thanks
Bramwell Brown
Reviews Loaded
Reviews Added